The Nevis Financial Services (Regulation and Supervision) Department (NFSD) held its 13th Annual Anti-Money Laundering/Countering Financing of Terrorism (AML/CFT) Awareness Seminar and Training Workshop on May 14th and 15th, 2018 at the Four Seasons Resort Nevis. The event was held under the theme "Improving transparency and accountability–Fostering confidence in today's regulatory environment."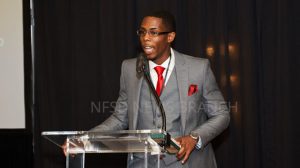 The Workshop commenced on May 14th with the Opening Ceremony which was ably chaired by Mr. Kenley Maynard who invoked God's blessings on the days' proceeding. Mr. Maynard is currently employed as a Trust Administrator with a regulated entity and has over nine years' experience in the financial services sector.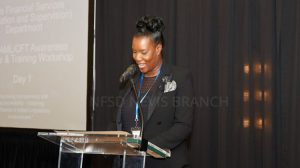 Welcoming Remarks were given by the Regulator of the NFSD, Ms. Heidi-Lynn Sutton. In her remarks, Ms. Sutton emphasized the role that the regulator and the regulated have to play in the fight against money laundering and terrorist financing and encouraged all attendees to continue to protect the reputation of their respective jurisdictions. "Our respective jurisdictions may be vulnerable to money laundering and terrorist financing threats, hence our commitment to put into place the necessary measures to mitigate against these risks…. We have a common goal to protect our reputation, to maintain our integrity and to discourage illicit actors from utilising the products and services for gain," Ms. Sutton stated.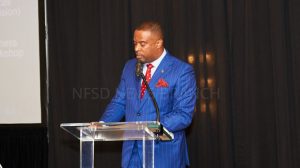 The Hon. Mark A.G. Brantley, Premier and Minister of Finance in the Nevis Island Administration, delivered brief remarks. He spoke of the role the government and the financial practitioners have to play in order to improve and promote transparency and accountability so that we can comply with international standards, build confidence in our jurisdiction and give investors the assurance that they are safe from fraudulent activities. Hon. Brantley spoke on the internal and external challenges that our jurisdiction faces. He stated that in spite of these challenges, we must continue to comply with the international standards in preventing financial crimes and tax evasion. "The financial sector is extremely important to the economy of Nevis and thus we will not leave any stone unturned in our determination to develop a reputable financial sector which continues to generate revenues for government and provide opportunities for our people," Hon Brantley said. The Premier and Minister of Finance concluded his remarks by encouraging all attendees to work together in collaboration with NFSD and the Nevis Investment Promotion Agency (NIPA) in order to build up our regulatory and marketing capacity.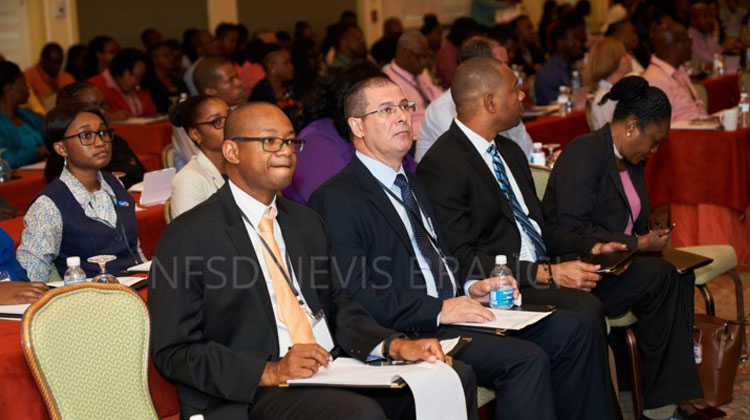 This year's workshop was facilitated by the Caribbean Financial Action Task Force (CFATF) and the Regional Security System Asset Recovery Unit (RSS ARU). The CFATF is an organisation of states and territories of the Caribbean basin which have agreed to implement common counter-measures against money laundering/terrorist financing. The RSS ARU is an innovative approach to tackle serious organised crime in the Caribbean common law jurisdictions, through partnership and the robust application of proceeds of crime and asset recovery legislation. Mrs. Joanne Daniel, Financial Advisor of
CFATF presented on the FATF recommendations and methodology for assessing technical compliance and effectiveness, as well as the effectiveness of having a compliance program with an inside look on money laundering and terrorist financing typologies. Mr. Giovanni James, Legal Counsel of RSS ARU presented on the overview of the model proceeds of crime legislation and Mr. Grenville Williams, Director of RSS ARU presented on a case study on asset recovery and money laundering investigations. This year's Gold Sponsor was Accuity. Accuity is a company that provides comprehensive data and innovative software that controls risk and compliance to accurate and flexible tools that optimize payment processes. Accuity was represented by Mr. Gilberto Pacheco who presented on the best practices for Customer Due Diligence/Know Your Customer to mitigate risks, in addition to managing the new challenges that faces an effective compliance program. The Workshop also included presentations from representatives of local and regional reputable organizations. The presenters included Mr. Christopher Louard, Director, Banking Supervision of the Eastern Caribbean Central Bank (ECCB) who presented on the highlights on the correspondent banking problem and the Eastern Caribbean Currency Union's (ECCU's) way forward; Mrs. Jacqueline Somersall-Berry, Director of Financial Intelligence Unit (FIU) presented on the methodologies used in drafting suspicious activity/transaction reports and provided feedback on suspicious activity reporting by regulated entities. The Managing Director of Beyond Capital Markets, Ms. Telly Onu presented on navigating the regulatory landscape of the digital assets and crypto assets.
The panel discussions were the highlight of the afternoon sessions on both days and comprised of representatives from local professional bodies sharing their views on the following themes:
Day 1 – "My client has been implicated! What are my risks?"
Day 2 – "Are you ready? Preparing for the transformation of the compliance Officer."
The panellists were Inspector James Sutton – Royal St. Christopher and Nevis Police Force (White Collar Crime Unit); Mrs. Dahlia Joseph-Rowe – Attorney and President of the St. Kitts and Nevis Bar Association; Mrs. Shawna Lake – Attorney and Registered Agent Representative; Mrs. Idris Fidela Haynes – Director of the AML Compliance Program Office at Scotiabank; Ms. Debra Dixon – Director of Heritor Management Ltd and Registered Agent Representative; and Chief Risk and Compliance Officer at the St. Kitts-Nevis-Anguilla National Bank – Mrs. Jacqueline Hewlett. The panel discussions were chaired by Mr. Hastings Ron Daniel II – Chief Executive Officer of Hamoron Services Ltd and Mélange Services.
This year's event saw the largest number of participants ever recorded with a total of two hundred and seven (207) attendees from various sectors which included financial institutions, trust and corporate service providers, credit unions, insurance companies and insurance managers, attorneys, money services businesses, lending agencies, accounting firms, real estate agencies, law enforcement agencies and government departments. The continual increase in attendance is indicative of the importance that is placed on the fight against money laundering and terrorism financing.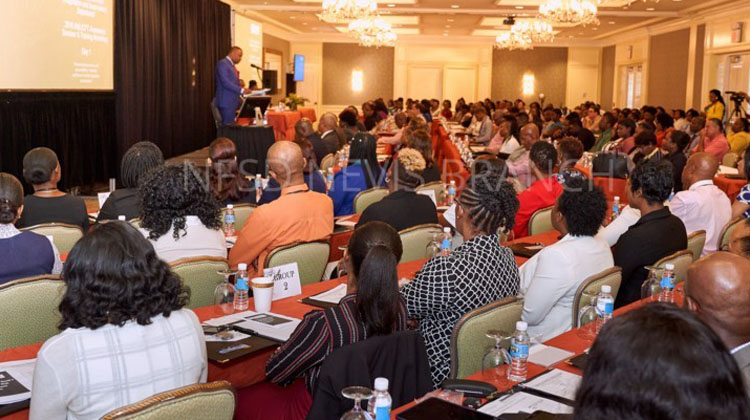 The Department expresses its thanks to all including our sponsors for ensuring the success of this year's Workshop. It is the intent of the Department to continue to fulfill its mandate by bringing key education and training to the industry thereby providing relevant information that would assist all in ensuring that our jurisdiction remains off-limits to criminals, terrorists and other elements that may seek to threaten our financial stability. We look forward to next year's event.
Previous Post
May 2018 Newsletter - FATF Guidance on Virtual Currencies
Next Post
FSRC Nevis Monthly Statistical Bulletin - June 2018